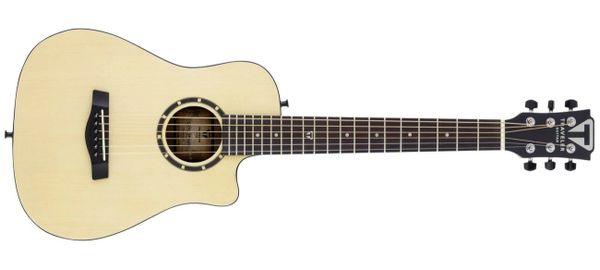 Traveler Camper CS-10
Traveler Guitar CS-10, the first model in our affordable and portable (and also adorable) Camper Series. This short-scale beauty plays with big-scale sound and it's jam-packed with value.

The Traveler CS-10 has a solid Engleman spruce top, which is snappy and reactive and that makes for rad upper mids. Then there's the warm, rich okoume (very similar to mahogany) back and sides with lacewood veneer. Together the species (fancy talk) make the CS-10 tonally balanced and totally purdy. It's also got an arched back for added boom-boom and comfort.
TONS OF VALUE
We've gone the extra mile with super slick appointments like pearloid dots, our Traveler "bug" at the 12th, sick black binding, an embossed logo on the headstock, and a super smooth satin mahogany neck. Oh, and it's got a cutaway! Are you kidding?! No. We're not. Also, gig-bag standard. 
BOTTOM LINE
You could use the CS-10 as a boat paddle if you found yourself in some sort of preposterous Cast Away type situation. Then you could name your guitar and have conversations with it! But we don't recommend that. Instead, we want you to take this lil beauty camping, or hiking, or biking, or climbing, or fishing, or swimming (j/k not swimming), and serenade yourself, your besties, and anyone else who's down with your hilarious Bob Dylan impression.
The Traveler Guitar CS-10 is lotsa guitar for very little moolah and it's a true space-saver, which makes it quite literally a happy camper (or glamper).
22.15 inch scale length
Solid Engleman Spruce top
Okoume back & sides w/Lacewood veneer
Weighs only 2 lbs. 13 oz.
Free gig bag included