Shure PGA48 QTR Microphone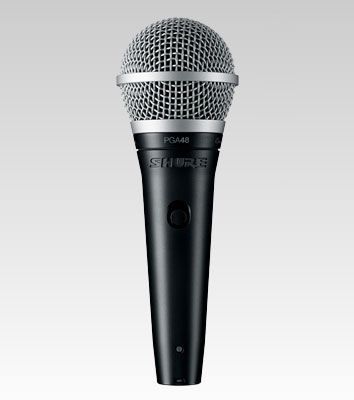 Shure PGA48 QTR Microphone
Shure PGA48-QTR Microphone

The PGA48 Cardioid Dynamic Vocal Microphone from Shure features a durable, rugged design geared towards spoken word and karaoke use, and includes an XLR to 1/4" cable. It is tuned specifically for clarity in the standard speech frequency range, and has an On/Off switch, allowing the user to quickly quiet the microphone when needed. A microphone clip, stand adapter, XLR to 1/4" Cable and zippered carrying pouch are also included.
    Tailored microphone cartridge design specifically for clarity in the standard frequency range of speech 




    Cardioid polar pattern picks up audio from the source while rejecting unwanted noise 




    Industrial design with black metallic finish and classic silver ball grille 




    On/Off switch for discrete control of microphone operation 




    Stand adapter for mounting to a microphone stand 



    XLR to 1/4" Cable

    Zipper pouch included for additional protection during storage or transport 



Frequency Range

70 Hz to 15 kHz
Sensitivity

-53.5 dBV, re: 1 V/Pa
Output Connectors

3-Pin XLR
Operating Relative Humidity

0 to 95%
Operating Temperature

-20 to 165°F (-28.89 to 73.89°C)
Box Dimensions (LxWxH)

10.5 x 5.0 x 3.4"