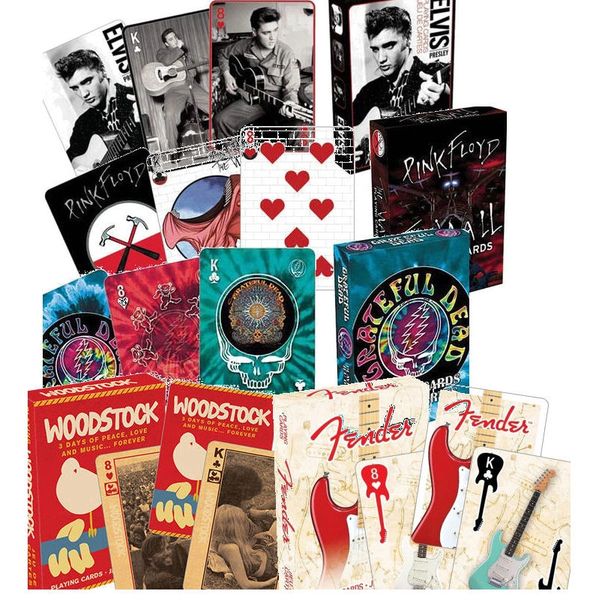 Playing Cards
Playing Cards for every Music Fan.  52 different images grace each pack of officially poker sized playing cards. Measuring 2.5 x 3.5 with a linen type finish, these playing cards are perfect for fans and serious players alike. 100% officially licensed.
Each deck sold separately $5.99 ea
Available Styles:

The Beatles – USA- 52 different images of the Fab Four's first visit to America 

Elvis Presley - Black & White- 52 different classic black and white shots of Elvis

Elvis Presley - Color- 52 Color photos of Elvis featuring many of his album covers
Fender Color 52 Strat Images
Grateful Dead _ 52-image playing cards featuring artwork from the Grateful Dead
Pink Floyd - Dark Side of the Moon-  features 52 classic images of Moon album Art

Pink Floyd  - The Wall-  Full color Art from the movie The wall
Woodstock - features 52 different Images from the iconic music festival.
Playing Card Set 
Grateful Dead - $13.99

Special Edition Set  2 x Official decks of Grateful Dead images and art 

 

2 packs of playing Cards with collectible tin, 

This good-quality hinged tin houses 2 different packs of 52-image playing cards, 




 yielding 104 images in all per tin. The tin measures 5.5" x 4" x 1.75". 100% officially licensed.