Guitar Stop Lesson Gift Card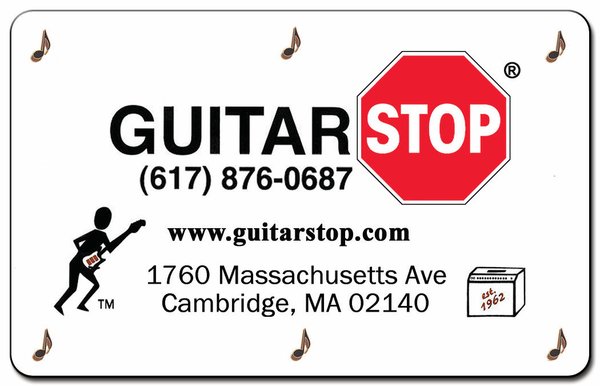 Guitar Stop Lesson Gift Card
Guitar, Bass, Piano, Mandolin, Ukulele, Banjo, Voice, Composition and Theory

$50 Per Hour - $25 Per ½ Hour
*12 Pack Pre-Pay Save 10%!
$45 Per Hour - $22.50 per 1/2 Hour
*12 Pack Pre-paid discount cards may only be used for lessons and are non-refundable
Discount cards do not guarantee Lesson price
Price Increase eff. 07/01/18

$60 per Hour - $30 per Half Hour
Professional Musicians give individual lessons in all styles of music from beginner to advanced. The instructor gears the lesson towards the needs of the individual student, teaching a basis of theory in the style of music the student is interested in.
After you purchase your Lesson Card online, the lesson card will be sent to you by US Mail.

Once you have received the lesson card, please give the store a call at 617 876-0687 to set up your first Lesson appointment. When you call you will be asked if you have a deposit w/ us, tell us that you have a gift card.
Guitar Stop is located at 1760 Mass Ave. in Cambridge MA 02140 in between Porter & Harvard Sq.
Hours:
Monday thru Saturday 10:00 am -6:00 PM,
Wednesday & Thursdays 10:00 am - 8:00 PM,
Sundays 12:00 - 6:00 PM est.