Fender Mustang GT40
Fender® Mustang GT 40 is the world's first WiFi-equipped amplifier. Users can access Fender artist-created presets, download the latest firmware updates and connect directly with a community of players to share their own presets, playing tips and more. Stream stereo music wirelessly from any Bluetooth device, or customize a preset from across the room with an iOS or Android smartphone, using the Tone app.

FEATURES

40-watt WiFi-equipped digital amplifier

Two 6.5" Fender Special Design speakers

Free, exclusive Tone App for one-touch preset access, management and editing

New models and effects with "spillover"

Bluetooth audio streaming and control

Onboard 60-second looper; setlist support

Presets: Mustang GT includes both genre-specific and artist-specific presets—created by the artists themselves. No other manufacturer has Fender's access to inspiring artists across such a wide variety of genres, from R&B to metal to pop to jazz.
Upgraded modeling: New models and effects with even more realism, increased signal path flexibility, more realistic response, "setlist" support and effects spillover when changing presets—we've updated everything about our digital modeling.
Tone App The free, exclusive Fender Tone app uses an intuitive interface to access a virtually endless number of presets, add one-touch control and remote editing to the Mustang GT's power and connect to Fender Digital for learning, demoing and sharing presets.
User Interface: The crystal-clear, LCD color display makes it easy to see amp and effect settings at a glance. Add to that the large encoder dial and three soft-touch keys and you have a powerful, intuitive interface that makes it easy to create your soun
The optional MGT-4 4-button footswitch unlocks the GT 40's powerful onboard looping capabilities—with up to 60 seconds of record time. The looper can be used as a creative tool to create lush, multi-layered soundscapes, as a practice companion to hear scales and chords in context or as a writing partner to work out ideas on the fly.

We recommend running a firmware update on your amp when you first purchase it, as a newer version may have become available between the time the amp was manufactured and the time you purchased it. It's also a good idea to check for available firmware updates, if at any time you experience an issue with the amp that may be fixed in the latest version.
Please watch our How to Update Your Firmware video, or follow the instructions below:
ACCESSORIES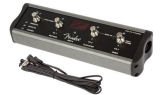 ELECTRONICS
Voltage 120V  
Wattage 40 Watts (2 x 20 in Stereo) 
Controls Gain, Volume, Treble, Bass, Master, Encoder, Three Layer Buttons, FX Button, Save Button, Menu Button, Tap Button  
Channels One Inputs One - 1/4" 
 Effects 21 Amp Models, 
46 Effects 
Line Out One - (1/8" Stereo)

HARDWARE
Cabinet Material 5/8" particleboard  
Amplifier Covering Black Textured Vinyl 
Grille Cloth Black  
Front Panel Black 
Handle Integrated Top-Mount Handle

SPEAKERS
Speakers Two - 6.5" Speakers  

Total Impedance 8 ohms

MEASUREMENTS
Amp Height 10.5" (26.7cm)  
Amp Width 15.25" (38.73 cm) 
Amp Length 8.25" (21.0 cm)  
Amp Weight 14 lbs. (6.25 kg)

LEGAL NOTICE: Product Prices, Features, Specifications and Availability Are Subject To Change Without Notice
Fender®, Squier® Stratocaster®, Telecaster®, Precision Bass®, Jazz Bass® and the distinctive headstock designs commonly found on the Strat®, Tele® & P Bass® guitars are registered trademarks of Fender Musical Instruments Corporation.