Fender Champion 50XL Guitar Amplifier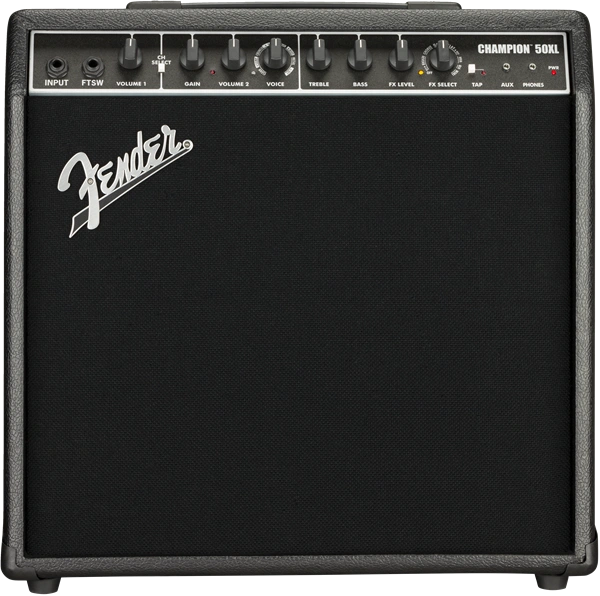 Fender Champion 50XL Guitar Amplifier
The Fender® Champion 50XL features: 50-watt, 1 x 12"  Designed for players who want an easy-to-use amp packed with unbeatable performance and features, the Champion 50XL contains a wide selection of amp models and effects.

The Champion 50 adds a more aggressive look and sound to the Champion series—"black on black" cosmetics separate it from the series' traditional aesthetics. Four "stompbox" effects (Compressor, Overdrive, Distortion and Octaver) add flexibility to the twelve amp tones that range from pristine clean to full-on metal distortion. A full complement of twelve classic effects, ranging from reverb and delay to Vibratone, provide the perfect platform for sonic experimentation. Completing the package, the 12" Celestion® "Midnight 60" speaker brings full tone, increased output and expressiveness to this versatile amplifier.
The optional 2-button footswitch allows remote channel selection and effect toggling.
The Fender Champion 50XL Combo is designed to be easy to use, whilst offering an 'unbeatable' performance. This amplifier is a limited edition model to the Champion series, adding a more aggressive appearance and output. The black on black cosmetic with black textured vinyl exterior and Fender's classic logo is certain to look great from the rehearsal room to the stage. Four stomp box effects adds versatility to the amp's 12 tones. Additionally, you can also enjoy the Champion's 12 classic effects that range from vibratone to delay and reverb. Lastly, the Fender Champion 50XL is equipped with a 12'' Celestion Midnight 60 speaker, adding a fuller tone, increased output, and versatility.
Blackface Clean & Modelling Channel:
The Fender Champion 50XL features two versatile channels, one with selectable amp voices and one based around the iconic Fender Blackface clean tone. With EQ options on both channels, the Fender Champion offers the ability to tweak and optimise your tone.
Aux & Headphone Connectivity:
Including 1/8 inch auxiliary and headphone connections, the Fender Champion 50XL can be connected to media players such as laptops, smart phones and tablets for jamming along to all your favorite tracks. Additionally, the headphone connection is perfect for silent practice.
Stompbox Effects:
The Fender Champion 50 XL features four stompbox effects, adding more sonic-possibilities to the 12 amp tones that differ between pristine clean to heavy metal distortion. These four effects include distortion, compressor, overdrive, and octaver.
Distortion Effect:
Distortion is ideal for playing rock, metal, or punk. This effect saturates the amplified sound, adding snarl, grit, and plenty of attitude to live performance. The distortion effect is also ideal for band work and for rhythm playing.
Compressor Effect:
The compressor effect offers control over the dynamic range of the guitar's tone, whilst increasing the output of sustain. Compressors also make the overall level of your playing style incredibly consistent. Additionally, the compressor effect is an idyllic solution for live performance as it prevents undesirable volume spikes and projects the more delicate nuances in your playing style.
Overdrive Effect:
The overdrive effect offer a crunchy, naturally driven sound. Overdrive also adds singing sustain and rich harmonic content, even while producing feedback.
Octaver Effect:
The octaver effect fills out your amplified sound, effectively harmonising with yourself. For live use, the octaver effect really adds something unique to your sound, by thickening up riffs and producing cutting lead lines.
LEGAL NOTICE: Product Prices, Features, Specifications and Availability Are Subject To Change Without Notice
Fender®, Squier® Stratocaster®, Telecaster®, Precision Bass®, Jazz Bass® and the distinctive headstock designs commonly found on the Strat®, Tele® & P Bass® guitars are registered trademarks of Fender Musical Instruments Corporation.