Dunlop Chromed Steel Slide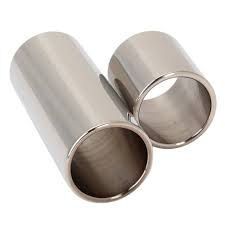 Dunlop Chromed Steel Slide
Dunlop Chromed Steel Slides - Great Slide Tones Start with a Great Slide!
The brass chromed slide combines the brighter tone of chrome with the weight and sustain of brass. Heavy wall thickness. Dunlop metallic slides give you a clean, bright, cutting tone with great sustain. Metal slides have a more brash quality than glass, making them a favorite among blues and rock players; they really make your licks stand out in a live or recorded mix!
These chromed steel slides are lightweight and have a tonal character that's perfect for electric guitars. Dunlop slides are durable and consistent, so you know you have a quality product in your gig bag.
Available in 2 sizes:

220 Medium - Inside 19 mm x Wall 1.5 mm x Length 60 mm Fits Ring Size 9
221 Medium Knuckle - inside 19 mm x Wall 1.5 mm x Length 28 mm Fits Ring Size 9